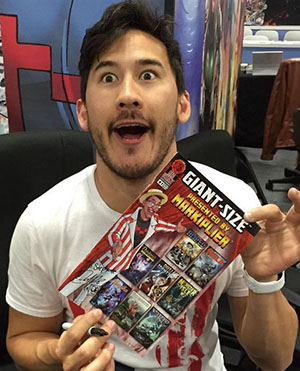 RED GIANT TO PUBLISH MARKIPLIER GRAPHIC NOVEL
"I will have my own comic... that I will be in!" announced Markiplier to the cheers of the packed crowd at the Red Giant / Keenspot panel during San Diego Comic-Con 2015. Markiplier will be starring in an all-new Red Giant Entertainment original graphic novel that will be made available for sale in both print and digital formats through mass-market retail locations worldwide.

With more than 11 million subscribers and 4 billion video views on his gaming comedy channel, Markiplier ranks among YouTube's biggest superstars. This first in a potential series of MARKIPLIER comics will see the character given a mysterious device by an overzealous fan that allows him to transverse dimensions, offering unlimited opportunities for the goofy gamer to get into madcap mischief. Markiplier quickly invades the various worlds of the GIANT-SIZE line of comics, further expanding the brand of each to the millions of Markiplier fans worldwide.